Angela's book Your Story Matters You Matter is a guide for you to heal, learn from and share your story. With Angela, in her Workshops and Coaching sessions, you will use the book to go through the process of thinking through your story and finding the nuggets of wisdom within. There are open-ended questions within the book to help. There is an 8 step process to both the workshops and the one-on-one, intensive coaching:
Why your story matters
How to define the messages in stories
The importance of learning and healing from your story
Discovering your purpose through your story
How to effectively share your story
How to develop a vision board based on your goals and dreams
How to experience the positive impacts of using a vision board and other motivational methods
Completion of your personal vision board
What is the purpose of the workshop or one-on-one coaching?
Learning from your story reveals your character, shows what areas in your life you may need healing in and exposes your life purpose. The wisdom gained from understanding your story can improve your life, encourage and inspire others when shared and create better connections with others.
What are your learning goals?
Utilizing the book, Your Story Matters You Matter A guide to healing, learning, from and sharing your story, you will:
Begin or continue your personal journey of understanding and learning from your story
Answer open ended questions about your story and how it has impacted you
Have opportunities for open-ended discussions about stories that have impacted you
Learn the power of and importance of sharing your story
Understand your personal value and how your story can lead to discovering your purpose and by sharing it, potentially help others
What are the expected outcomes?
Clarity about your personal story
A starting point of determining how to share your story and which parts of it to share
A framework to be able to tell your story and the message within it
A vision board that clearly outlines your desires, hopes and dreams for the future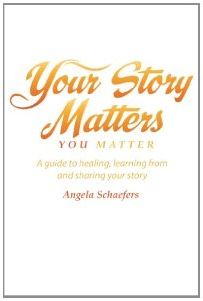 Angela has healed, learned from and shared her own story in both written and spoken format. She has discovered that every one has a story that matters and should be told. Angela holds a Bachelor of Arts degree in Organizational Management and a Master of Arts degree in Counseling. She has previously counseled families, couples, children and individuals. She has provided individual and group career and motivational coaching and has provided consulting to small businesses.
Contact us at the contact form for a complimentary, 30 minute consultation with Angela Schaefers.
Workshops are available for groups up to ten and individual coaching is available with flexible scheduling. Books are available at a discount for 6 or more in a group and the book is complimentary to those who choose individual coaching.
Don't wait… Today is a great day to discover the power behind YOUR story!
Your Story Matters. You Matter. Changing the world one story at a time!
---
---