The Bliss Mistress Guide
Join over-the-moon-excited, colorfully creative author Edie Weinstein as she shares her newly birthed 'baby'; The Bliss Mistress Guide To Transforming the Ordinary Into the Extraordinary. Do you long for a life that sings and soars? Do you have dreams and Desires that light you up from the inside? What what it would be like to be a human sparkler?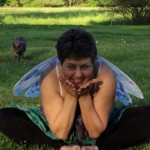 Edie's book invites you to take a step into the life you have always wanted-filled with love, abundance, adventure, success, healing, joy, healthy relationships, self exploration and fun. Come along on a journey with the Bliss Mistress and learn to become Mistress or Master of your own bliss.