Surviving to Thriving
Carole Sanek is a breast cancer survivor and successful entrepreneur as a  blogger and social media coach.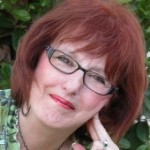 Carole has combined her past experience  in nursing, her story of cancer survival and her discovery of enjoying  social media to encourage and inspire many and tell her story of Surviving to Thriving. Whether blogging on one of  several blog posts about surviving and thriving after breast cancer or  sharing her tips on social media, Carole has something helpful to share with you!
http://thesocialbutterflymediamarketing.com
---
"Angela eloquently shares a powerful message of hope and encouragement wherever she speaks. Her expressive and positive demeanor leaves a memorable impact on others."
Today is a great day to discover the power behind YOUR story. Contact Angela today.

Angela recently shared her "ideas worth spreading" at TEDxUCIrvine.
Watch the video here.
---