Strand of Pearls #DomesticViolence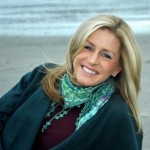 In her memoir, Strand of Pearls, Deborah Livingston recounts her journey from childhood abuse, frequent tragedy and adult addiction to a spiritual transformation that brought her an inner peace and joy available to us all. Her misfortunes early in life and her inability to see them as the "pearls" they actually were led to serious addiction in her early forties. And yet this addiction saved her life, preparing her for the inner transformation she would experience.
http://www.authordlivingston.com
---
"Angela eloquently shares a powerful message of hope and encouragement wherever she speaks. Her expressive and positive demeanor leaves a memorable impact on others."
Today is a great day to discover the power behind YOUR story. Contact Angela today.

Angela recently shared her "ideas worth spreading" at TEDxUCIrvine.
Watch the video here.
---