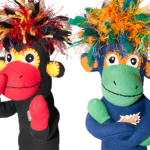 Jennifer Windrum shares her story behind creating the organization SMAC!, Sock Monkeys Against Cancer.
Jennifer says: "This whole entrepreneurial endeavor isn't just about some random monkeys and attaching cancer to their name. It's about my Mom… and too many others like her.The SMAC! monkey line was inspired by my Mom, Leslie Lehrman, who was diagnosed with Stage IV lung cancer six years ago. No, she never smoked. ANYONE can get lung cancer ('nother whole story)." SMAC! is a group of philanthropic monkeys that provides tangible support to those battling cancer – reminding them that no one fights it alone.
Jennifer Windrum – Sock Monkeys Against Cancer. SMAC!
Read more at the SMAC! website, here: http://www.smacancer.com