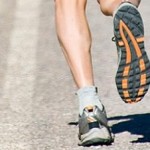 On May 1st 2010, Mike Ehredt, a retired Postal Clerk and Army Veteran, touched the wheel of his jogger stroller in the Pacific Ocean in Astoria, OR and began an epic 4,514 mile journey across the country to Honor and Remember Service Members lost in Iraq – Project Run America.  He placed flags that hold a yellow ribbon bearing the Name, Rank, Service, Age and Hometown of those whose dreams and ambitions were taken so quickly from us.
The flags were placed each mile along the roads he traveled in reverse chronological order by date of death, till the very last flag he placed on the shores of the Atlantic in Rockland, Maine on October 15th, 2010.  Mike's story matters!
Podcast: Play in new window | Download
---
"Angela eloquently shares a powerful message of hope and encouragement wherever she speaks. Her expressive and positive demeanor leaves a memorable impact on others."
Today is a great day to discover the power behind YOUR story. Contact Angela today.

Angela recently shared her "ideas worth spreading" at TEDxUCIrvine.
Watch the video here.
---