With Hard Work and Faith, Nothing is Impossible
Matt Courson is a 24 year old from McGehee, Arkansas who was injured in a four-wheeler accident on April 23, 2006. After lying alone for five hours before being found, Matt underwent an 8-hour surgery at UAMS to repair the damage he suffered to his spine. The following month was spent at UAMS and Baptist Rehabilitation Institute where he began the process of learning life's simple activities. An All-State selection, 8AAA Pitcher of the Year, and collegiate pitcher now faces life in a wheelchair.
Matt's initial words to his parents as he lay in the UAMS Emergency Room were he would not let this injury beat him; that he was going to make a difference. Matt's fight began the instant he was injured and has continued through the following months.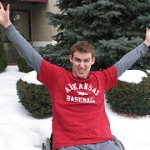 After two additional surgeries and ten months of rehab, he is steadily progressing to the point of complete independence while holding to the words he whispered in the UAMS Emergency Room…