The Love Doctors
Love Coach Jonathon Aslay and his partner Love Doctor Sheri Meyers, share their love story! Both Aslay and Meyers have helped others to understand the dynamics of love and relationships through coaching, counseling and material they have created. In their own love story both have learned the power of healing, forgiveness and opening the heart to find true love!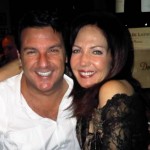 Aslay and Meyers poignantly and openly share their individual stories of love lost, developing their purpose to help others in relationships, dating and love and creating their best love story (together) thus far!
http://chattingorcheating.com/
---
"Angela eloquently shares a powerful message of hope and encouragement wherever she speaks. Her expressive and positive demeanor leaves a memorable impact on others."
Today is a great day to discover the power behind YOUR story. Contact Angela today.

Angela recently shared her "ideas worth spreading" at TEDxUCIrvine.
Watch the video here.
---