Listen to the Interview
Podcast: Play in new window | Download
Angela eloquently shares a powerful message of hope and encouragement and leaves a memorable impact on others. If you're aware of a group that will benefit from Angela's story and her expressive and positive demeanor,  contact Your Story Matters.
The Love Doctors
Love Coach Jonathon Aslay and his partner Love Doctor Sheri Meyers, share their love story! Both Aslay and Meyers have helped others to understand the dynamics of love and relationships through coaching, counseling and material they have created. In their own love story both have learned the power of healing, forgiveness and opening the heart to find true love!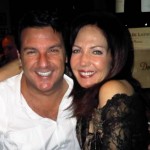 Aslay and Meyers poignantly and openly share their individual stories of love lost, developing their purpose to help others in relationships, dating and love and creating their best love story (together) thus far!
http://chattingorcheating.com/