Joy From Deep Within
From Hemant Gupta's book, Joy From Deep Within — Just like you and most, I have struggled with bringing and saving feeling joy and happiness within myself. As I approach fifty years of my life, I find myself to be writing this book about happiness and joy, an activity that is perhaps the least compatible with my training and education. The only qualifications I have to embark on such adventure is that for the last few decades core of my being has been unhappy and dissatisfied.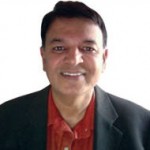 The most notable change has come from altering my own perspective. It has made an incredible difference in my emotional well-being. In short, my perspective as a whole starting with who I am to how I relate to others around me and how I see the world around me has undergone a deep change. This book is about this change. It will be my hope that this book makes a similar difference in your perspective and inspires a happier change in your life.