Hope Through the Eyes of Love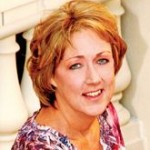 Patricia Meserve Gauvin has a background in nursing with various jobs all enabling her to be her husband Ron's advocate, caregiver, rehabilitation nurse and home health care clinician during his past 20 year triumph with a brain tumor. Patti wrote her husband's autobiography and developed a model for living through adversity for her master's thesis at Antioch New England. She facilitated a brain tumor support group for several years, culminating in leading a panel discussion for long term survivors at the Brain Tumor Society national symposium.
This memoir shows Patti's unique perspective and commitment as a wife. Patti and Ron grew up in NH and have now settled on the northwest gulf coast of Florida, their "paradise found". They both enjoy gardening, walking the beach searching for sand dollars and watching dolphins play in the surf – Hope Through the Eyes of Love.
By listening to the interview below and leaving a reply, you will be entered to win a copy of Patti Gauvin's book, Hope Through The Eyes of Love. Comments will be closed once the draw has taken place.
Podcast: Play in new window | Download