Book Giveaway
By listening to the interview and leaving a comment below, you will be entered to win a copy of the book.
Healing with Whispers of Hope
Denise Cunningham, author, speaker and healer, helps others to heal emotionally and spiritually.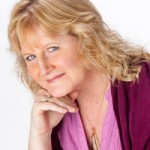 Denise works with your innate wisdom to return your physical, emotional, mental, and spiritual awareness back to their natural balanced state. Her book Whispers of Hope is a guide book and the story of her own healing process through trauma and a breast cancer diagnosis — Whispers of Hope
---
"Angela eloquently shares a powerful message of hope and encouragement wherever she speaks. Her expressive and positive demeanor leaves a memorable impact on others."
Today is a great day to discover the power behind YOUR story. Contact Angela today.

Angela recently shared her "ideas worth spreading" at TEDxUCIrvine.
Watch the video here.
---