Book Giveaway
By listening to the interview and leaving a comment below, you will be entered to win a copy of the book.
Sentenced to Life in Bed.  But, I Escaped
Karen Goeller was diagnosed with cancer in 1991. The cancer surgery was a success, but Karen was left with lymphedema in her leg. She was sentenced to life in bed. She was forced to keep her leg elevated or in motion 24/7 and in a compression stocking. She was told by doctors she would never walk again! Readers of her book will be inspired to push themselves to beat the odds, accept the challenge, and reach their goals.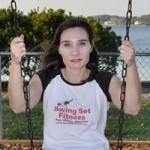 The reader will see how Karen Goeller went from being the bed-ridden cancer patient to who she is today. Twenty years later Karen Goeller is living a full life, the life she was told she would never have! Karen's story brings hope to the hopeless.
---
"Angela eloquently shares a powerful message of hope and encouragement wherever she speaks. Her expressive and positive demeanor leaves a memorable impact on others."
Today is a great day to discover the power behind YOUR story. Contact Angela today.

Angela recently shared her "ideas worth spreading" at TEDxUCIrvine.
Watch the video here.
---