Book Giveaway
By listening to the interview and leaving a comment below, you will be entered to win a copy of the book.
A Chosen Bullet – A Story of Sports Passion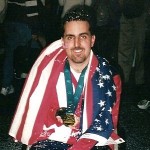 A Chosen Bullet is the story of what Bill Renje's passion as a Chicago sports fan has taught him in life and the struggles this passion helped him to overcome from the day a 9mm bullet ripped through his neck from five feet away.
Bill's life went from a bottomed-out, permanently paralyzed, teenager to a two-time Paralympic gold medalist, very happily married man, blessed father of three children, and successful businessman.
---
"Angela eloquently shares a powerful message of hope and encouragement wherever she speaks. Her expressive and positive demeanor leaves a memorable impact on others."
Today is a great day to discover the power behind YOUR story. Contact Angela today.

Angela recently shared her "ideas worth spreading" at TEDxUCIrvine.
Watch the video here.
---