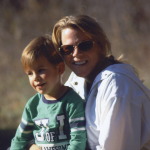 Jill Kraft Thompson poignantly shares her story of life, Finding Jill, after the loss of five family members; her husband, two sons, her mother and niece.
Her book 'Finding Jill' is the powerful story of how one woman experienced unthinkable tragedy and yet survived to experience new love, new hope and new life.
Jill Kraft – Finding Jill – Overcoming Grief
Read more at Jill's website, here: http://findingjill.net/
Read Angela's related blog post, Finding Jill, at Then Life Happens.