Honoring our Fallen Heroes
Susan Price, Goldstar mother of Aaron Kenefick, shares about the loss of her only son while serving at war under circumstances that are questionable.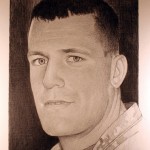 Ms. Price shares her thoughts on the healing process during her grief by helping others and finding answers about the unneccesary death of her son, Marine Gunnery Sergeant Aaron Kenefick, and four others which may have been prevented. Honor our Fallen Heroes.
http://militarytimes.com/valor/marine-gunnery-sgt-aaron-m-kenefick/4273164
---
"Angela eloquently shares a powerful message of hope and encouragement wherever she speaks. Her expressive and positive demeanor leaves a memorable impact on others."
Today is a great day to discover the power behind YOUR story. Contact Angela today.

Angela recently shared her "ideas worth spreading" at TEDxUCIrvine.
Watch the video here.
---