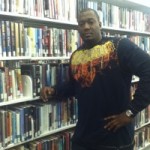 The oldest brother of the NFL's Jacksonville Jaguar Justin Durant and the CFL's Saskatchewan Roughrider Darian Durant, Keshawn Durant stands tall after becoming injured and ill. After losing his football career due to his ailments, he suffered bouts of major depression; however, he has now found his way. He continues to escalate toward his true success. Escalating Success displays an accurate, intimate account of his life in this heart-wrenching and uplifting life story. Having endured all of the good and the bad that life has provided, Keshawn has no regrets and is sharing his love for sports and his love for life with the world.
By listening to the interview below and leaving a reply, you will be entered to win a copy of Keshawn Durant's book, Escalating Success. Comments will be closed once the draw has taken place.
Podcast: Play in new window | Download
---
"Angela eloquently shares a powerful message of hope and encouragement wherever she speaks. Her expressive and positive demeanor leaves a memorable impact on others."
Today is a great day to discover the power behind YOUR story. Contact Angela today.

Angela recently shared her "ideas worth spreading" at TEDxUCIrvine.
Watch the video here.
---