Creating Change – Community Opportunities Inc.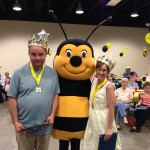 Community Opportunities Inc. is a non-profit agency whose purpose is to provide quality of life opportunities for adults and teens with intellectual and developmental disabilities.
They provide these services in hopes to enhance their client's lives and facilitate their becoming independent. They provide work skills training, job coaching, and opportunities to be involved in the community and with their peers.
Along with the daily opportunities they also plan many special events through out the year to make memories and create opportunities for all.